June 10th 2022: 6th Driff Fest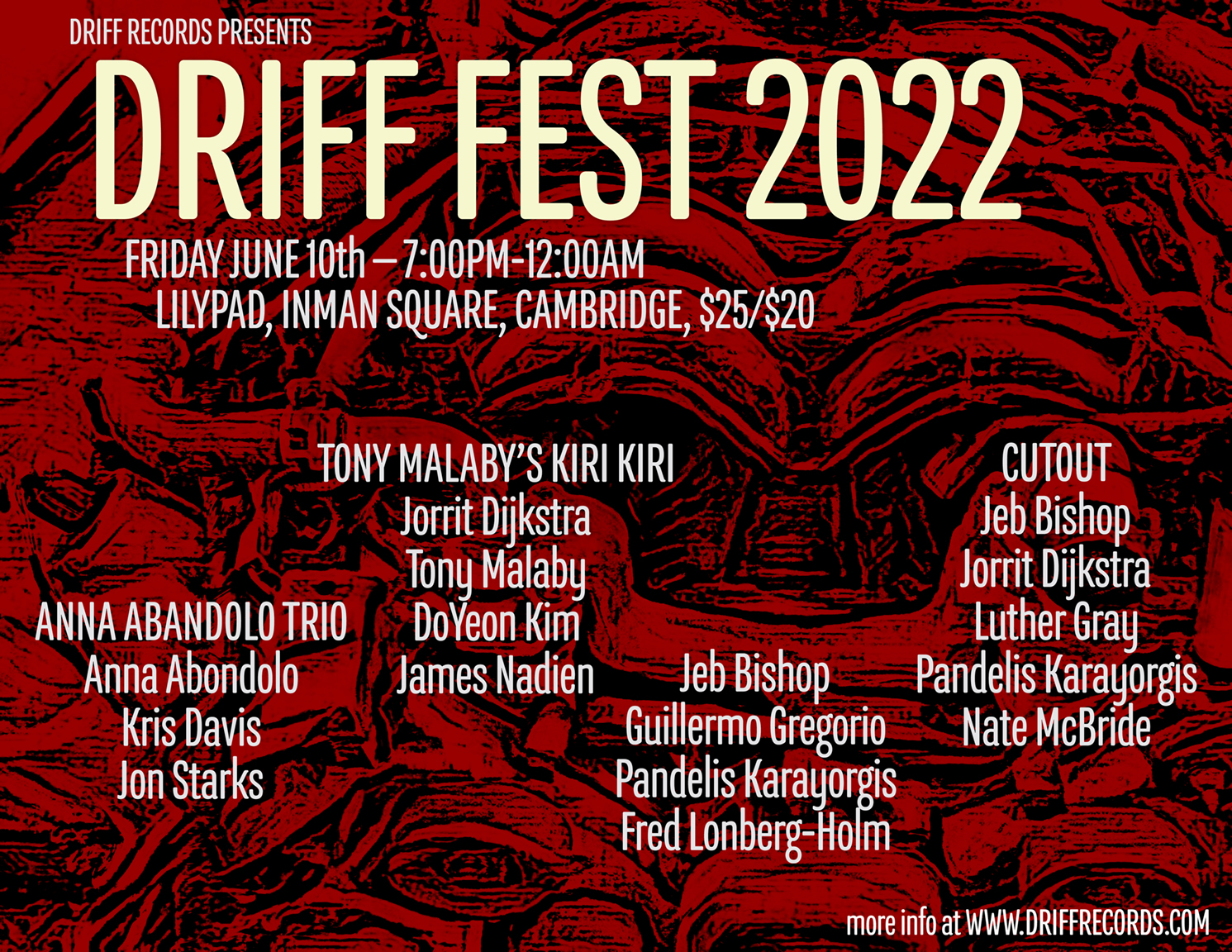 Friday, June 10 2022, 7:00 PM-12:00 AM
Lilypad, Inman Sq, Cambridge
Admission $25 ($10 students)
7:30
ANNA ABONDOLO TRIO
Anna Abondolo - bass
Kris Davis - piano
Jon Starks - drums
8:30
TONY MALABY'S KIRI-KIRI
Jorrit Dijkstra, soprano sax
Tony Malaby, soprano sax
DoYeon Kim, Gayageum
James Nadien, drums
9:30
Guillermo Gregorio, clarinet
Jeb Bishop, trombone
Fred Lonberg-Holm, cello
Pandelis Karayorgis, piano
10:30
CUTOUT w. special guest(s)
Jorrit Dijkstra, alto sax
Jeb Bishop, trombone
Pandelis Karayorgis, piano
Nate McBride, bass
Luther Gray, drums
October 1st 2021: 5th Driff Fest

Friday, October 1 2021, 7:00 PM-12:00 AM
Lilypad, Inman Sq, Cambridge
Admission $20 ($15 students)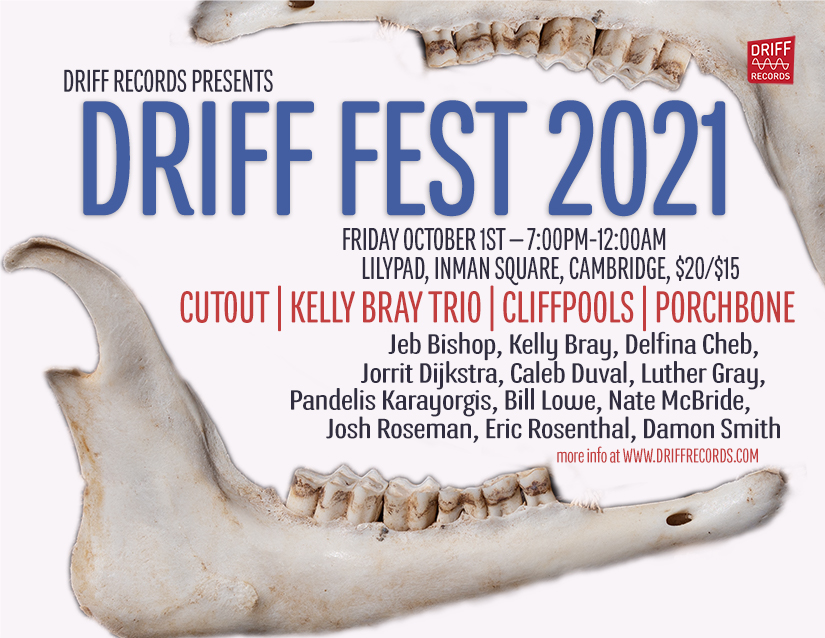 June 12 2020: 5th Driff Fest
** CANCELED **
Lilypad, Inman Sq, Cambridge

We're excited to announce that the 5th annual Driff Festival will take place on Friday June 12th of this year, at the Lily Pad in Cambridge, MA.
Some programs highlights:
Trio Linger (Jorrit Dijkstra, John Hollenbeck and special guest)
Guillermo Gregorio, Jeb Bishop, Pandelis Karayorgis
Cutout (Jorrit Dijkstra/Jeb Bishop/Pandelis Karayorgis/Nate McBride/Luther Gray)
Twin Engine (Jeff Platz/Matt Crane duo)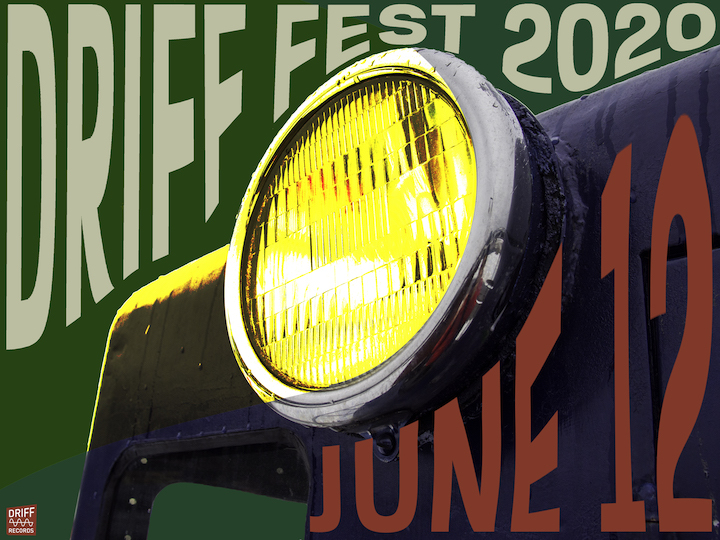 June 8 2019: 4th Driff Fest

Saturday, June 8 2019, 7:30 PM-1:00 AM
Lilypad, Inman Sq, Cambridge
Admission $20 ($15 students)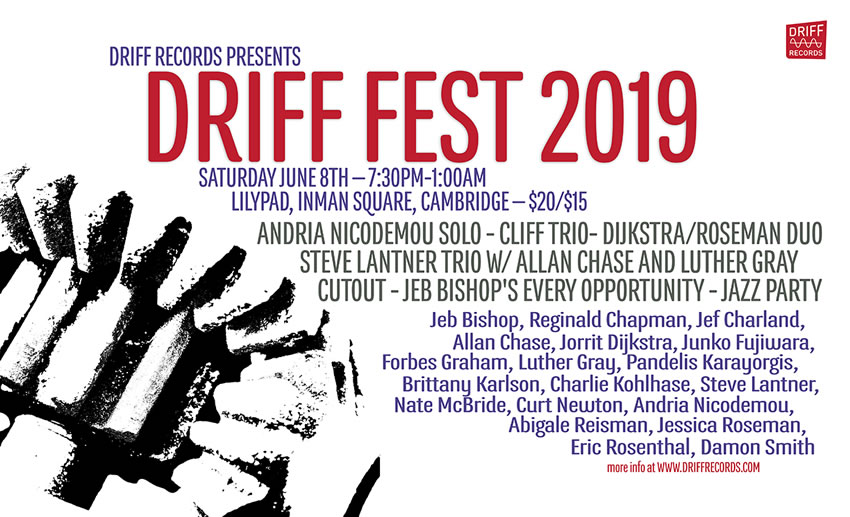 7:30
Andria Nicodemou Solo
Andria Nicodemou, vibraphone
8:15
Cliff Trio
Pandelis Karayorgis, piano
Damon Smith, bass
Eric Rosenthal, drums
9:00
Jorrit Dijkstra-Jessica Roseman Duo
Jessica Roseman, dance
Jorrit Dijkstra, soprano sax
9:30
Steve Lantner Trio w/ Allan Chase and Luther Gray
Allan Chase, alto sax
Steve Lantner, piano
Luther Gray, drums
10:15
Cutout
Jorrit Dijkstra, soprano, alto sax
Jeb Bishop, trombone
Pandelis Karayorgis, piano
Nate McBride, bass
Luther Gray, drums
11:00
Jeb Bishop's Every Opportunity
Forbes Graham, trumpet
Jeb Bishop, trombone
Reginald Chapman, bass trombone
Abigale Reisman, violin
Junko Fujiwara, cello
Brittany Karlson, bass
Andria Nicodemou, vibraphone
Curt Newton, drums
Eric Rosenthal, drums
11:50
Jazz Party
Forbes Graham, trumpet
Charlie Kohlhase, saxes
Jeb Bishop, trombone
Pandelis Karayorgis, piano
Jef Charland, bass
Curt Newton, drums
April 2019: Article about Driff Records in The New York City Jazz Record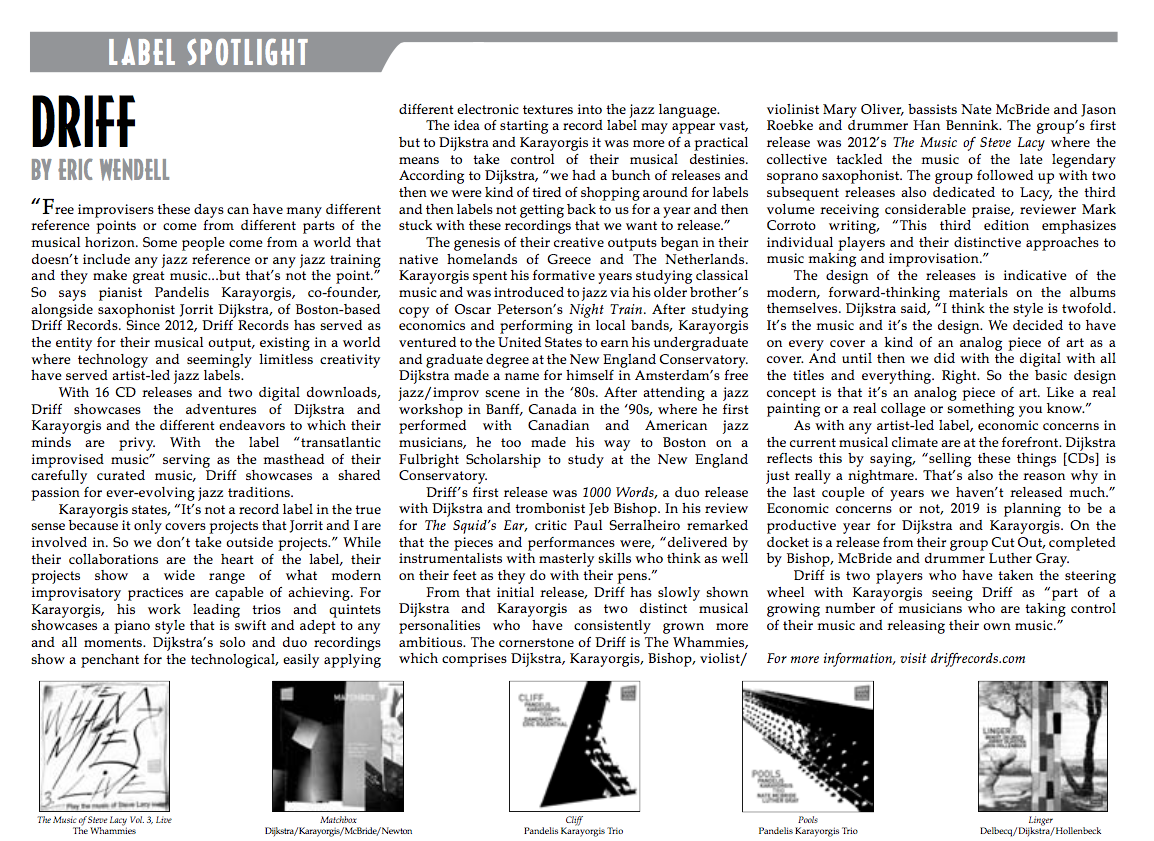 September 2018: Three Trios
Three new releases
After a three year hiatus, Driff Records releases three trio CDs. Click on the CD image
to find out about each release on the Driff Records Bandcamp page.

7-9 PM, Lilypad, 1353 Cambridge St, Cambridge, MA 02139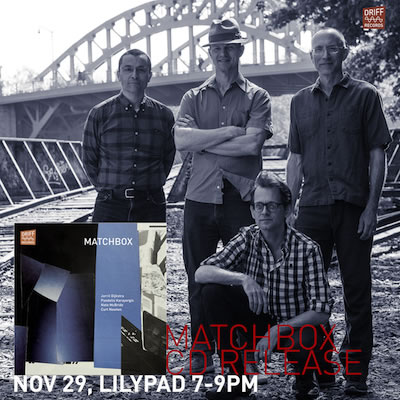 Jorrit Dijkstra - alto sax
Pandelis Karayorgis - piano
Nate McBride - bass
Curt Newton - drums
June 19 - 20, 2015: 3nd Annual Driff Records Mini-Fest
On June 19th and 20th, at the Lily Pad in Cambridge, Driff Records presented its 3d annual Driff Fest.
This year, it spanned two evenings and featured special guests: Jeb Bishop, Taylor Ho Bynum, Tony Malaby and Ra-Kalam Bob Moses.
Each evening had four short sets ending with Bathysphere both nights.
more photos here

This year's event was made possible with the support of Cambridge Arts and MCC.